Current Job Openings
Support Coordinator
Do you have a heart for people and passion for leading a team?  ABLE, Inc. has an opening for a Support Coordinator providing case management and quality assurance for people with Developmental and/or Intellectual Disabilities. Job duties include developing goals and writing plans to advance living, vocational, and recreational skills, assisting people to manage health and finances, coordinating services through an interdisciplinary team approach, monitoring services to ensure that standards of service meet or exceed applicable standards and laws, and responsibility for the overall management of worksite and staff. 
Qualifications include a Bachelor of Arts or Science degree preferably in Behavioral Science or Human Service fields and one year of experience working with people with Intellectual/Developmental Disabilities.  Starting wage is $26.49 to $27.10 depending on experience.  Support Coordinators are very active in the lives of people they support, working alongside Direct Support Professionals, to assist people with disabilities in creating the life that they desire.
To learn more about the position contact Janelle Stoneking at 701-456-3000 with questions. A resume is required to be considered. 
Direct Support Professionals - Starting at $17-20/hour
Come learn with us while making an impact in other people's lives! ABLE, Inc. has Full-Time, Part-time and Back-up positions providing support to people with disabilities in all aspects of their life.
Why should you apply?
Wages start at $17.00 per hour 
We offer a shift differential for overnight shifts up to $3/hour more depending on location.
We assist you in becoming Developmental Disability Certified (which looks fabulous on a resume)! 
Full time positions offer excellent benefits (more information provided below).
The experience that you gain will impact your life in many ways. 
Job requirements include required drug screening and driver's license is preferred.  Some tasks include providing assistance with personal and health care needs, assisting with daily activities and supporting people to be involved in their community. Basically, you help people live their best life!  You will be supported by supervisors who are frequently available on-site providing modeling, evaluation and overall supervision.
What are the schedules like?
ABLE, Inc. has a variety of shifts for DSPs on two week rotating schedules (see examples below), also overnight shifts available. With this rotating 2 week format, employees work one weekend and then are off the next weekend.  Schedules vary based on the available hours and needs of the people who reside at each location. When you interview, please be clear on the hours you are able to work as this helps us understand how your availability may fit within our current hiring needs. Below are some examples of schedules that have recently been available:
---
Registered Nurse or LPN
Are you looking for a nursing experience that will change your life? ABLE, Inc. is hiring a full time nurse. We are looking for strong assessment skills, organization, compassion and a desire to assist in creating supportive lifestyles for people with intellectual disabilities. Qualified candidates must be licensed to practice in North Dakota. Intellectual Disabilities, Mental Health and/or Behavioral Health experience a plus. Competitive wages and excellent benefit packages are available. Preference is for a full-time Registered Nurse but would consider LPN and/or part-time. Submit your application online at www.ableinc.net/join-our-team/employment-application.html .  Call 701-456-3000 if you have further questions.  
Starting wage for LPN is $21.63 
Starting wage for RN is $30.44 
---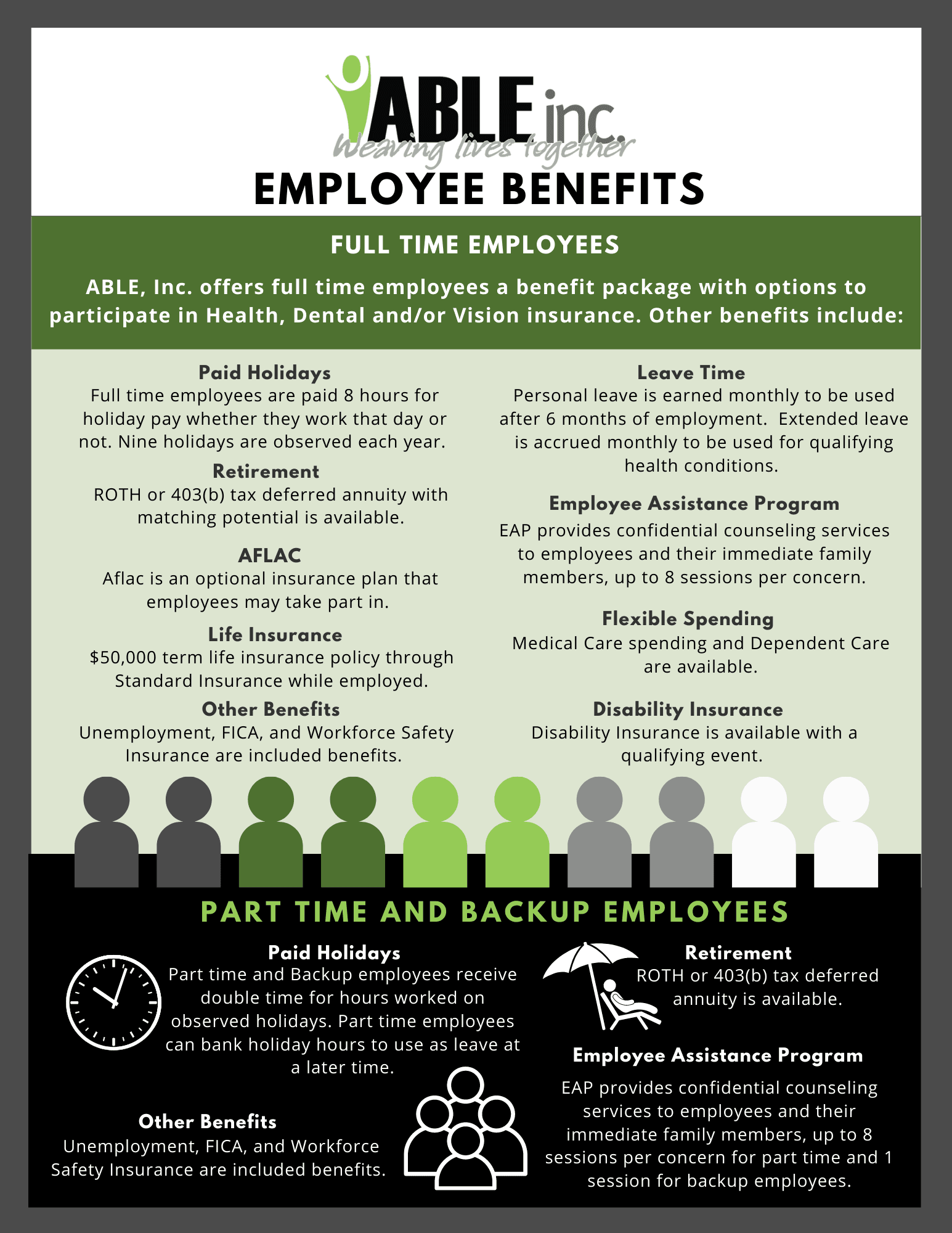 ABLE, Inc. is an equal opportunity employer.